Buffy The Vampire Slayer: Complete Series Season 1-7 (DVD 2017, 39-Disc Box Set)
SALE
Buffy The Vampire Slayer: Complete Series Season 1-7 (DVD 2017, 39-Disc Box Set)
THIS IS A BRAND NEW FACTORY SEALED DVD SET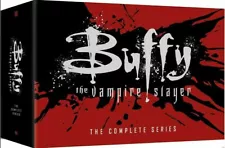 Sarah Michelle Gellar takes on the role of Buffy Summers in this TV version of "Buffy the Vampire Slayer," based on the film of the same title, which starred Kristy Swanson. Buffy is a Slayer, one in a long line of young women chosen for a specific mission: to seek out and destroy vampires, demons and other forces of darkness. Unlike her predecessors, Buffy establishes a group of supportive friends who aids her in her battles with evil, including Willow, Xander and Cordelia. Her battles with evil are frequent, since Sunnydale, where Buffy and friends live, sits atop a gateway to the realm of the demons.
Now slaying in one extraordinary collection...this must-own DVD set for every Buffy "watcher." Loaded with fantastic extras, this collection contains all seven butt-kicking season of Buffy the Vampire Slayer on 39 discs. So jump into your favorite demon-filled episodes whenever you like or watch all the high voltage vampire action from the beginning!

Note on Boxed Sets: During shipping, discs in boxed sets occasionally become dislodged without damage. Please examine and play these discs. If you are not completely satisfied, we'll refund or replace your purchase.
Brand New: An item that has never been opened or removed from the manufacturer's sealing 
Country/Region of Manufacture:
Buffy the Vampire Slayer (1997 TV series)