Duck and Hippo The Secret Valentine -Hardcover Book
Duck and Hippo The Secret Valentine (Duck and Hippo, 4) Hardcover – December 18, 2018 by Jonathan London
THIS IS A BRAND NEW HARDCOVER BOOK
FREE SHIPPING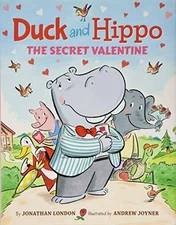 Join Duck, Hippo, and their friends as they uncover their secret valentines!
It's Valentine's Day, and something curious is going on. As the birds tweet their love songs, Hippo and his friends Elephant, Pig, and Turtle each receive mysterious, unsigned Valentine's Day cards. Hippo wonders if his is from Duck; Elephant and Turtle think theirs are from Pig; and Pig dreams that hers is from Turtle. The cards tell the friends to come to the park at four o'clock to meet their valentines―so they'll find out soon enough! As the clock ticks away, the friends wonder―and dream―about their valentines and make special preparations. But when they arrive…SURPRISE!
This Valentine's Day might not go exactly the way they expected, but one thing is certain: being friends with Duck and Hippo is always a special treat!
From School Library Journal
K-Gr 2—When Duck realizes that she doesn't have a valentine on Valentine's Day, she devises a plan to bring all her friends together to celebrate. As she secretly delivers her anonymous party invitations, Hippo is hoping it is from Duck, Turtle is hoping it's from Pig (and vice versa), and Elephant is wondering if it's from Duck or Pig. As the time for the gathering draws near, each animal puts on their best outfit, gathers a treat to share, and heads to the park. They all arrive at exactly 4:00 p.m., but where is Duck? With a flourish she leaps from a bush and declares, "I'm the secret valentine!" and as she gives Hippo a rose she says, "The best valentines are friends" and all of the others heartily agree. Joyner's digitally colored illustrations depict the affable pals in varied settings including house, pizza shop, pond, grocery, bathroom, and street as they get their invite, prepare, and rush off to the park. Plenty of detail, white space plus fun text type and placement make for a lively read. Observant readers will see telltale signs of sneaky Duck as she delivers her missives and spot the birds on every page. An added bonus is a lesson in analog time telling. On six occasions that the text mentions time, there is a clock face somewhere in the illustration (alarm clock, clock tower, timepiece, sundial, etc.) with a blue minute hand and red hour hand with matching numbers. VERDICT A friend-affirming Valentine story with a time-teaching element to boot. A good choice for storytime or one-on-one sharing.—Catherine Callegari, Gay-Kimball Library, Troy, NH
Review
"[A] lively read. A friend-affirming Valentine story with a time-teaching element to boot. A good choice for storytime or one-on-one sharing." 
―
School Library Journal


"What better way to celebrate Valentine's Day than to create an opportunity for everyone to gather and express their gratitude for each other." 
―
Good Reads With Ronna
Brand New: A new, unread, unused book in perfect condition with no missing or damaged pages.
Duck and Hippo: the Secret Valentine
Holidays & Celebrations / Valentine's Day, General, Social Themes / Friendship, Animals / Ducks, Geese, Etc.