God of War: Origins Collection (Sony PlayStation 3, 2011)PS3
SALE
God of War: Origins Collection (Sony PlayStation 3, 2011)PS3
THIS IS A BRAND NEW FACTORY SEALED VIDEO GAME
FREE SHIPPING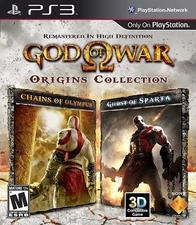 Two epic adventures released on PS3 for the first time (God of War: Chains of Olympus and God of War: Ghost of Sparta)

Completes Kratos' saga by relating the events that preceded the original God of War game and those that came between God of War and God of War II

Both games remastered for HD resolution and possessing full 3D support

Full PlayStation Network trophy support and Dual Shock controller compatibility

Included Bonus Content - DLC contents from GOW Ghost of Sparta (Legionnaire Kratos and Forest of the Forgotten), Video - God of War: Game Directors Live
The Games
God of War: Chains of Olympus
The God of War franchise tells the tragic and violent story of the warrior Kratos and his dealings with the gods. The ancient world would eventually both praise and damn the infamous 'Ghost of Sparta' as the mortal who slayed a god, but long before his battle with Ares, Kratos sought absolution from his past sins by pledging himself as a champion to the gods. These brutal crusades in the name of Olympus became legendary, but would have far-reaching consequences. In Chains of Olympus Kratos is pushed to the edge as he is ordered by the gods to journey to the very depths of the underworld after the world plunges into darkness. There he must face the most feared creatures of Greek mythology and is forced to choose between his own personal redemption and saving the ancient world from certain destruction. It is a choice that will shake the immortals from their perches on Mt. Olympus.
God of War: Ghost of Sparta
Set within the shadowy realm of Greek mythology, God of War: Ghost of Sparta allows players to take on the role of the powerful and iconic Spartan warrior Kratos following the events of the original God of War game for PS2. Although Kratos has made his ascent to power as the God of War, this rise is not without its consequences. In his quest to rid himself of the nightmares that haunt him, Kratos must embark on a journey that will reveal the origins of lost worlds, and finally answer long-awaited questions about his dark past. Armed with the deadly chained Blade weapons, he will have to overcome armies of mythological monsters, legions of undead soldiers, and amazingly dangerous and brutal landscapes throughout his merciless quest.
| | |
| --- | --- |
| Product Dimensions | 5.56 x 0.5 x 6.75 inches; 6.7 Ounces |
| Binding | Video Game |
| Rated | Mature |
| Item model number | 828921 |
| Is Discontinued By Manufacturer | No |
| Item Weight | 6.7 ounces |
| Manufacturer | Sony Computer Entertainment |
| Date First Available | June 2, 2011 |