Hunting Ground (Blu-ray, 2020)
Hunting Ground (Blu-ray, 2020) 
THIS IS A BRAND NEW FACTORY SEALED MOVIE
FREE SHIPPING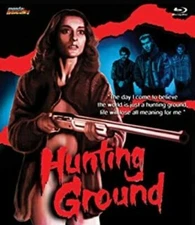 Mondo Macabro presents HUNTING GROUND - First ever Blu-ray release of a powerful and shocking story of revenge and retribution!

Adele, a female lawyer, brilliantly played by Assumpta Serna, passionately defends criminals, believing that everyone deserves a second chance and that criminality is more often than not bred by deprivation. In the courtroom, a pair of local hoods sees her in action and decides to follow her. They steal her car, find the keys to her country villa and decide to rob the place. Unfortunately, Adele's family turns up at the villa mid-burglary and her husband is killed. But, that is only the beginning of the nightmare…

Directed by Jordi Grau who made the horror classics BLOOD CEREMONY and LET SLEEPING CORPSES LIE, HUNTING GROUND is an intense, gripping crime story that takes a savagely realistic look at the social divide between rich and poor in the big city. The climax of the film is unrelenting in its depiction of sexual violence and revenge, and includes one of the most shocking sequences ever seen in a mainstream film.

Specs:
Anamorphic Widescreen 1.85:1.
DTS-HD MA 2.0 Stereo.
Region code: All.

Special Features:
Brand new 4k transfer from film negative, digitally restored.
Fully uncut.
50 minute interview with Director Jordi Grau.
Choice of English or Spanish audio.
Brand new sleeve art from Justin Coffee.
Mondo Macabro previews.
Review
The last 15, 20 minutes are amongst the most savage endings I've ever seen. --Waldo/Letterboxd

This one's a steady build but it pays off in ways you'll never forget if you're a fan of transgressive cinema. --Nathaniel Thompson/Mondo Digital

…a very powerful film. --Ian Jane/Rockshockpop
MPAA rating ‏ : ‎

 

NR (Not Rated)

Package Dimensions ‏ : ‎

 

6.65 x 5.43 x 0.47 inches; 5.92 Ounces

Director ‏ : ‎

 

Jordi Grau

Media Format ‏ : ‎

 

NTSC, Subtitled, Widescreen

Run time ‏ : ‎

 

1 hour and 45 minutes

Release date ‏ : ‎

 

June 8, 2021

Actors ‏ : ‎

 

Assumpta Serna, Victor Valverde, Luis Hostalot, Jose Sacristan, Montserrat Salvador

Studio ‏ : ‎

 

Mondo Macabro

ASIN ‏ : ‎

 

B091CFG2BZ

Country of Origin ‏ : ‎

 

USA

Number of discs ‏ : ‎

 

1