I Love Lucy -The Complete Second Season (DVD 2004,5-Disc Set)
I Love Lucy -The Complete Second Season (DVD 2004,5-Disc Set)
BRAND NEW/FACTORY SEALED
FREE FAST SHIPPING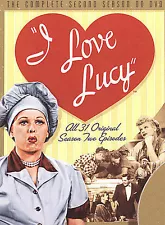 Season 2 of I Love Lucy includes two of the most famous half-hours in television history. "Job Switching," originally broadcast mid-September of 1952, is the crazy, battle-of-the-sexes episode in which husbands Ricky Ricardo (Desi Arnaz) and Fred Mertz (William Frawley) trade roles with wives Lucy (Lucille Ball) and Ethel (Vivian Vance), culminating in the men making a shambles of domestic chores while Lucy and Ethel take disastrous work at a chocolate factory. That's right: This is the show where the ladies have a Chaplinesque experience with a too-fast factory conveyor belt, forcing them to hide candies in their mouths, in their hats, and down their blouses lest a tough forewoman fire them for incompetence. A half-century later, the scene is still so fresh and funny it would grace any current sitcom. "Lucy Goes to the Hospital," which received an amazing 71.7 rating on January 19, 1953, is the historic episode featuring the birth of Little Ricky and a load of wonderful slapstick. Other television series (The Dick Van Dyke Show) and movies (Nine Months) have tried to top Lucy's time-to-go-to-the-hospital shenanigans, but there's nothing like the sight of Ricky and Fred falling all over themselves or Ricky showing up at the maternity ward (direct from a voodoo-themed show at the Tropicana) in witch doctor makeup.
The other 31 episodes included in I Love Lucy: The Compete Second Season have choice moments, too. "Lucy Becomes a Sculptress" finds the ever-ambitious redhead falling for empty flattery at an art-supply store and commencing an ill-advised career working in clay. Ricky agrees to bless this new endeavor if an art critic says she has talent, but Lucy tries to increase her chances by posing as a bust of herself--resulting in mayhem, of course. The usual running themes in I Love Lucy--Lucy's misguided desire to be a part of Ricky's musical career, and her penchant for disguising herself to investigate something--are all over The Complete Second Season. "Ricky Loses His Voice" is a delightful piece in which Ricky's laryngitis inspires Lucy, the Mertzes, and an aging chorus line to put on a Tropicana spectacle, and "Ricky Has Labor Pains" finds Lucy and Ethel going undercover as male reporters to find out what happens at a stag party. Lots to enjoy here, and the special features include bloopers, information about the guest cast, and snippets from Ball's radio show. --Tom Keogh

"✅USA STOCK✅FAST DELIVER✅EXCELLENT QUALITY✅BEST CUSTOMER SERVICE✅"

We provide free shipping with USPS First Class Shipping (5-8 Business Days)
Processing Time on some orders (1-3 Days)
Delivery time varies during the holidays.
We do not dispatch packages on sat, sun, and holidays.
We are not responsible for late delivery, but contact us for help.

Replacement within 30 days of purchase.
Return will be accepted within 30 days of purchase.



International Buyers

Import duties, taxes, and charges are not included. Please check with your country's customs office to determine what these additional costs will prior to purchase

Warranty Information We want you to be completely happy! If for any reason you are not happy with your purchase we will gladly accept returns (excluding swimwear and intimate bottoms). Items must be returned within 30 days of purchase in original, unused condition (including all packaging and tags). You will receive a refund for the cost of the merchandise less all shipping costs. If there are any signs of wear, heavy perfumes or smoke the item will be mailed back to you. Used merchandise can not be returned. Please allow up to 14 days from the time we receive your return for processing your refund. Your payment will be refunded in full less all shipping costs. We stand behind our goods and services and want customers to be satisfied with them. We have long believed that when we treat our customers fairly, they in turn are fair with us. To return your product, please refer to our return policy page, which shows the our return address.