Interstellar (4K UHD Blu-ray/Blu-ray, Digital HD)
Interstellar (4K UHD Blu-ray/Blu-ray, Digital HD)
BUY NEW OR USED
FREE SHIPPING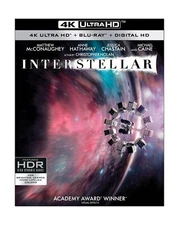 From director Christopher Nolan (Inception, The Dark Knight trilogy) comes the story of a team of pioneers undertaking the most important mission in human history. Academy Award winner Matthew McConaughey (Dallas Buyer's Club) stars as ex-pilot-turned-farmer Cooper, who must leave his family and a foundering Earth behind to lead an expedition traveling beyond this galaxy to discover whether mankind has a future among the stars. Also starring Academy Award winner Anne Hathaway (Les Miserablés) and Academy Award nominee Jessica Chastain (Zero Dark Thirty).
4K High Definition, English 5.1 DTS-HD Master Audio, French/Spanish 5.1 Dolby Digital

Plotting an Interstellar Journey - Origins, influences & narrative designs

Shooting in Iceland: Miller's Planet/Mann's Planet - Creating 2 vastly different worlds in 1 country

Celestial Landmarks - How practical special effects give the illusion of real space travel

Miniatures in Space - Explore the large-scale models used in the film

And More!
Is Discontinued By Manufacturer ‏ : ‎

 

No

MPAA rating ‏ : ‎

 

PG-13 (Parents Strongly Cautioned)

Product Dimensions ‏ : ‎

 

0.7 x 7.5 x 5.4 inches; 10.72 Ounces

Item model number ‏ : ‎

 

B0767FCYDW

Director ‏ : ‎

 

Christopher Nolan

Media Format ‏ : ‎

 

4K

Release date ‏ : ‎

 

December 19, 2017

Actors ‏ : ‎

 

Jessica Chastain, Anne Hathaway, Matthew McConaughey, Bill Irwin, Mackenzie Foy

Dubbed: ‏ : ‎

 

French, Spanish

Subtitles: ‏ : ‎

 

French, Spanish

Studio ‏ : ‎

 

Paramount

ASIN ‏ : ‎

 

B0767FCYDW

Country of Origin ‏ : ‎

 

USA

Number of discs ‏ : ‎

 

3