Kingdom Hearts II [GH] (Sony PlayStation 2 PS2) BRAND NEW
Kingdom Hearts II [GH] (Sony PlayStation 2 PS2)
BRAND NEW/FACTORY SEALED
FREE FAST SHIPPING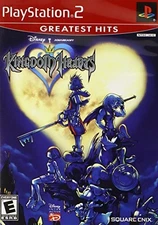 Real time battle system that incorporates innovative new elements with traditional RPG gameplay

Meet other Disney characters from films like Aladdin, Tarzan, Hercules & Alice In Wonderland

Disney characters act like their film personas : Peter Pan flies, Tarzan climbs and King Triton swims, among others

Cameo appearances by Final Fantasy characters : Meet Selphie (FF VIII), Tidus & Wakka (FF X) and others

Integrated voiceovers, with actual voices of Disney characters
Ever wondered what would happen if the worlds of Final Fantasy and Disney collided? It's an odd concept to be sure, but from the most schizophrenic of acorns the mighty gaming oak of Kingdom Hearts has grown. Legendary role-playing game makers Square have been given unprecedented liberties with the entire Disney universe and have created a game featuring everything from The Nightmare Before Christmas to The Little Mermaid. This is odd enough in itself when you have characters as disparate as Tarzan and Donald Duck teaming up, but becomes majorly freaky when Square thrown in a variety of their own characters such as Cloud, Squall, and Aeris from the various Final Fantasy games. But this incongruity has one side benefit in that the storyline behind the game is by necessity rather vague, which seems to have stopped Square from filling three CDs full of their usual New Age whining about Mother Earth. Instead they've spent even more time on the graphics, and the end result is a quite stunning 3-D cartoon.
As for the gameplay, it may come as a surprise to learn that it doesn't actually feature, as all the Final Fantasy games do, turn-based combat. Instead it's essentially a scrolling beat-'em-up-cum-platformer with exactly the kind of complicated Square-style knobs you'd expect. The game may be a little shallow, but it's an impressive artistic achievement and to be quite frank any title that allows you to magically summon Bambi out of thin air to attack evil demons of the underworld has got to be worth some sort of recommendation. --David Jenkins
"✅USA STOCK✅FAST DELIVER✅EXCELLENT QUALITY✅BEST CUSTOMER SERVICE✅"

We provide free shipping with USPS First Class Shipping (5-8 Business Days)
Processing Time on some orders (1-3 Days)
Delivery time varies during the holidays.
We do not dispatch packages on sat, sun, and holidays.
We are not responsible for late delivery, but contact us for help.

Replacement within 30 days of purchase.
Return will be accepted within 30 days of purchase.



International Buyers

Import duties, taxes, and charges are not included. Please check with your country's customs office to determine what these additional costs will prior to purchase

Warranty Information We want you to be completely happy! If for any reason you are not happy with your purchase we will gladly accept returns (excluding swimwear and intimate bottoms). Items must be returned within 30 days of purchase in original, unused condition (including all packaging and tags). You will receive a refund for the cost of the merchandise less all shipping costs. If there are any signs of wear, heavy perfumes or smoke the item will be mailed back to you. Used merchandise can not be returned. Please allow up to 14 days from the time we receive your return for processing your refund. Your payment will be refunded in full less all shipping costs. We stand behind our goods and services and want customers to be satisfied with them. We have long believed that when we treat our customers fairly, they in turn are fair with us. To return your product, please refer to our return policy page, which shows the our return address.