MARVEL'S AGENTS OF S.H.I.E.L.D. Season 3 [Blu-ray 5-Disc Set]
MARVEL'S AGENTS OF S.H.I.E.L.D. Season 3 [Blu-ray 5-Disc Set]
THIS IS A BRAND NEW FACTORY SEALED BLU-RAY
FREE SHIPPING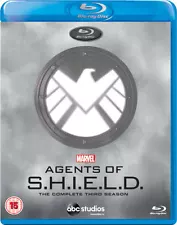 "Gear up for explosive action and mind-blowing adventure when Hydra's ancient origins and ultimate agenda are revealed in the epic, game-changing third season of Marvel's Agents of S.H.I.E.L.D.
The survival of mankind hangs in the balance as Director Phil Coulson and his Agents battle an otherworldly evil. Devastated by the apparent loss of Jemma Simmons, Leo Fitz risks everything to rescue her. Agent May rejoins the team—only to discover a terrible truth about her ex-husband, Dr. Andrew Garner. Meanwhile, after the release of Terrigen, the U.S. government creates the ATCU (Advanced Threat Containment Unit) to monitor emerging Inhumans. But the program is actually a smoke screen for the sinister machinations of Hydra's leader Gideon Malick, who joins forces with treacherous ex-S.H.I.E.L.D. agent Grant Ward. The resulting carnage spurs Coulson to exact a revenge that will ultimately backfire, unleashing apocalyptic consequences in the form of a terrifying alien entity known as Hive. To help combat this threat, Agent Daisy Johnson organizes a small band of Inhuman "Secret Warriors," not knowing that she will soon meet her match and once again be forced to make a heartbreaking sacrifice. Experience all 22 thrilling episodes – plus captivating bonus features – with this must-own boxed set: Marvel's Agents of S.H.I.E.L.D. – The Complete Third Season.
Note:Customer may receive any of the two Items-Standard Cover or Specialized O-Ring."
Aspect Ratio ‏ : ‎

 

1.78:1

Is Discontinued By Manufacturer ‏ : ‎

 

No

MPAA rating ‏ : ‎

 

NR (Not Rated)

Product Dimensions ‏ : ‎

 

5.31 x 0.59 x 6.77 inches; 3.53 Ounces

Item model number ‏ : ‎

 

BUY0267301

Media Format ‏ : ‎

 

Blu-ray

Run time ‏ : ‎

 

15 hours and 6 minutes

Release date ‏ : ‎

 

January 30, 2017

Actors ‏ : ‎

 

Clark Gregg, Chloe Bennet

Subtitles: ‏ : ‎

 

English

Language ‏ : ‎

 

Unknown (Dolby Surround)

Studio ‏ : ‎

 

Walt Disney Studios Home Entertainment

ASIN ‏ : ‎

 

B01MG1WN5E

Number of discs ‏ : ‎

 

5