MONSTER HOUSE (2006 DVD) Widescreen
MONSTER HOUSE (2006 DVD) Widescreen
BUY NEW OR USED
FREE SHIPPING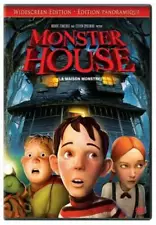 Three kids discover that the house across the street is a living, breathing monster.
Twelve-year-old DJ Walters (voice of Mitchel Musso) has decided there's something weird about old man Nebbercracker's (Steve Buscemi) house across the street. Things keep disappearing into the dilapidated structure: basketballs, toys and pets. It's the day before Halloween and DJ and his pal Chowder (Sam Lerner) have a run-in with Mr. Nebbercracker after their basketball is mysteriously swept into the house. When the house tries to swallow their new friend Jenny (Spencer Locke), they turn to Skull (Jon Heder), a twenty-something slacker pizza chef, who advises them that the house could be alive. They come up with a plan to strike at its heart, the basement furnace. But their plan goes awry, and when the house chases them down the street, they must join forces to make the neighborhood safe for trick-or-treaters.
Even for a 12-year old, D.J. Walters has a particularly overactive imagination. He is convinced that his haggard and crabby neighbor Horace Nebbercracker, who terrorizes all the neighborhood kids, is responsible for Mrs. Nebbercracker's mysterious disappearance. Any toy that touches Nebbercracker's property, promptly disappears, swallowed up by the cavernous house in which Horace lives. D.J. has seen it with his own eyes! But no one believes him, not even his best friend, Chowder. What everyone does not know is D.J. is not imagining things. Everything he's seen is absolutely true and it's about to get much worse than anything D.J could have imagined.
Aspect Ratio ‏ : ‎

 

2.40:1

Is Discontinued By Manufacturer ‏ : ‎

 

No

MPAA rating ‏ : ‎

 

PG (Parental Guidance Suggested)

Product Dimensions ‏ : ‎

 

7.5 x 5.5 x 0.5 inches; 5.17 Ounces

Item model number ‏ : ‎

 

1201

Director ‏ : ‎

 

Gil Kenan

Media Format ‏ : ‎

 

Multiple Formats, AC-3, Animated, Closed-captioned, Color, Dolby, Dubbed, NTSC, Subtitled, Widescreen

Run time ‏ : ‎

 

1 hour and 31 minutes

Release date ‏ : ‎

 

October 24, 2006

Actors ‏ : ‎

 

Steve Buscemi, Nick Cannon, Maggie Gyllenhaal, Kevin James, Jason Lee

Dubbed: ‏ : ‎

 

French

Subtitles: ‏ : ‎

 

English, French

Producers ‏ : ‎

 

Steve Starkey, Jack Rapke

Language ‏ : ‎

 

English (Dolby Digital 5.1), French (Dolby Digital 5.1), Unqualified

Studio ‏ : ‎

 

Sony Pictures Home Entertainment

ASIN ‏ : ‎

 

B000IFRT2Y

Country of Origin ‏ : ‎

 

USA

Number of discs ‏ : ‎

 

1