Mork & and Mindy ~ Complete Season 3 (DVD)
Mork & and Mindy ~ Complete Season 3 (DVD)
BRAND NEW/FACTORY SEALED
FREE USA SHIPPING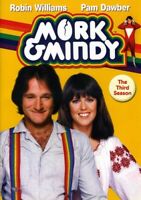 Mork & Mindy: The Third Season finds the titular pair still working on their offbeat relationship but growing closer all the time in love and regard for one another. The season begins with the threat of Mork (Robin Williams) being recalled to his home planet Ork after he undergoes a personality change from too much Earth exposure. The wildman from another planet is suddenly acting like a bland suburbanite, upsetting Mindy (Pam Dawber) and requiring a visit from a revered Orkan elder (actually a boy, played by Vidal Peterson) who will either restore the real Mork's character or take him back. "Mork the Prankster" finds the ever-curious extraterrestrial learning about the concept of practical jokes, then so offending Mindy with a prank gone bad that she moves out and must be convinced to take him back again. In "Mindy Gets a Job," Mindy applies for and receives an entry-level job at a Boulder television station, then finds herself having to go on-camera to do the news broadcast alone during a blizzard. When she runs out of steam during her report, Mork leaps to the rescue, giving Williams a prime opportunity to improvise his way through a stream of feverish free-association. In the season finale, "Reflections and Regrets," Mindy tells Mork about her greatest sorrow, and he sets about trying to ease her pain while also letting her know how he truly feels.
Of course, there are a number of episodes that concern Mork's heightened sense of justice and fairness, including "Dueling Skates," in which Mork challenges a champion skater to a race in order to save the day care center where he works. "Mork, the Monkey's Uncle" begins with Mork kidnapping a chimp from a zoo after concluding the primate was being mistreated. "Gunfight at the Mork-ay Corral" focuses on Mork's effort to teach a young boy (Corey Feldman) about the virtue of non-violence. Finally, there are plenty of comic storylines that simply encourage Williams to display his genius, such as "Mork Meets Robin Williams," in which character and actor have a hilarious, face-to-face interview encounter. "Alas, Poor Mork, We Knew Him Well," is a very fun show about Mork's neurotic reaction to an insurance salesman's pitch about death from natural disasters. Mork & Mindy: The Third Season has a number of episodes from among the best of the old Garry Marshall-created sitcom. --Tom Keogh
MPAA rating :

 

s_medNotRated Unrated (Not Rated)

Product Dimensions :

 

7.5 x 5.5 x 0.5 inches; 4.8 Ounces

Item model number :

 

60840548800

Media Format :

 

Multiple Formats, Box set, Color, Full Screen, NTSC

Run time :

 

9 hours and 9 minutes

Release date :

 

November 27, 2007

Actors :

 

Robin Williams, Pam Dawber

Language :

 

Unqualified, English (Dolby Digital 2.0 Mono)

Studio :

 

Paramount

ASIN :

 

B000UX6TLG

Number of discs :

 

4
"✅USA STOCK✅FAST DELIVER✅EXCELLENT QUALITY✅BEST CUSTOMER SERVICE✅"

We provide free shipping with USPS First Class Shipping (5-8 Business Days)
Processing Time on some orders (1-3 Days)
Delivery time varies during the holidays.
We do not dispatch packages on sat, sun, and holidays.
We are not responsible for late delivery, but contact us for help.

Replacement within 30 days of purchase.
Return will be accepted within 30 days of purchase.



International Buyers

Import duties, taxes, and charges are not included. Please check with your country's customs office to determine what these additional costs will prior to purchase

Warranty Information We want you to be completely happy! If for any reason you are not happy with your purchase we will gladly accept returns (excluding swimwear and intimate bottoms). Items must be returned within 30 days of purchase in original, unused condition (including all packaging and tags). You will receive a refund for the cost of the merchandise less all shipping costs. If there are any signs of wear, heavy perfumes or smoke the item will be mailed back to you. Used merchandise can not be returned. Please allow up to 14 days from the time we receive your return for processing your refund. Your payment will be refunded in full less all shipping costs. We stand behind our goods and services and want customers to be satisfied with them. We have long believed that when we treat our customers fairly, they in turn are fair with us. To return your product, please refer to our return policy page, which shows the our return address.