NASCAR The Game: Inside Line - Playstation 3
NASCAR The Game: Inside Line - Playstation 3
BUY NEW OR USED
FREE SHIPPING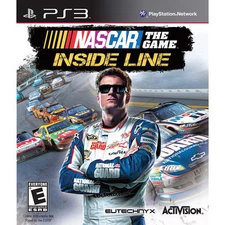 Experience the heart-pounding, adrenaline-filled races of the world's most exciting racing series from the best seat in the house — behind the wheel. Hop into the driver's seat of officially licensed cars and race around real-life tracks as part of actual NASCAR teams and events. Play as or against some of the biggest names in racing, including Darrell Waltrip, Mike Joy, Ray Evernham and Ty Norris, and build a career over multiple seasons in the progressive Career mode. Will you let the pros get the best of you, or will your show them what a true racing legend looks like?
High-octane world Rewrite NASCAR history Adrenaline-filled races
Synopsis
NASCAR The Game: Inside Line thrusts you into the heart of the fast-paced, high-octane world of stock car racing. Whether you choose to compete as yourself or as your favorite NASCAR Sprint Cup Series driver, you'll get the full racing experience as you face off against other official NASCAR teams and manufacturers. Experience the ultimate thrill and see what a Sprint Cup race weekend is like from practice and qualification to the race, and enjoy officially licensed cars, teams, drivers, tracks, rules and events. Build a reputation over multiple seasons in Career mode and progress from rookie to a sponsor-selecting seasoned pro, or compete online with up to 15 other players to see who can cross the finish line first. Take the wheel and experience the thrilling, real-life race moments. This is your chance to rewind, relive and rewrite NASCAR history.

Key Features:
Experience the adrenaline-soaked, exciting world of NASCAR as you attempt to dominate the Sprint Cup series

Play as or against some of the biggest names in racing, including Darrell Waltrip, Mike Joy, Ray Evernham and Ty Norris

Live out a race weekend from practice to qualification to the race itself

Hone your skills over multiple seasons with the progressive Career mode

Relive and rewrite NASCAR history with game challenges that are re-creations of some of the sport's most gripping, real-life moments


Choose from a variety of modes, including Single and Multiplayer, or take the action online and race against up to 15 other players
Very Good: An item that is used but still in very good condition. No damage to the jewel case 
NASCAR The Game: Inside Line