Ratchet & and Clank: Full Frontal Assault (Sony PlayStation 3, 2012) PS3
Ratchet & and Clank: Full Frontal Assault (Sony PlayStation 3, 2012) PS3
BUY NEW OR USED
FREE SHIPPING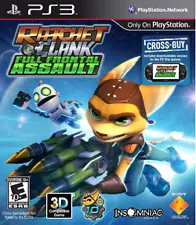 Ratchet & Clank: Full Frontal Assault
Ratchet, Clank, and Captain Qwark embark on their newest adventure in Ratchet & Clank: Full Frontal Assault. Packed with replay value, the game features online / split-screen co-op and online competitive modes.
This fun-sized adventure offers a campaign you can play single-player or in co-op (split screen or online). It's classic Ratchet & Clank gameplay with a base defense twist. Even after you play it once, you'll want to try again to improve your scores and times.
On top of the campaign, Ratchet & Clank: Full Frontal Assault has a multiplayer mode that you can play 1v1 or 2v2. And, for those of you who also own a PlayStation Vita system, the game supports cross-buy, cross-save, and competitive multiplayer cross-play. If you purchase Ratchet & Clank: Full Frontal Assault for the PS3 system, you'll be able to download the PS Vita version at no additional cost.
It's Time to Call In the Q-Force!
Captain Qwark has had his ups and downs, but no one can deny his success in founding the Q-Force with Ratchet and Clank, an elite team of heroes that managed to end the evil plans of Dr. Nefarious.
But now the Q-Force has a brand new enemy to face – an enemy with a nasty surprise planned for Captain Qwark. Can the Q-Force foil this plot and save Qwark, not to mention the entire universe, from total anarchy?
Key Features
Classic third-person co-op action: work together with a friend, playing as Ratchet, Clank, or Captain Qwark

Confront an alien army across six different levels: defend your base against invasions with out-of-this-world weapons and gadgets

Play again and again: loads of upgrades, extra character skins, and unlockable content will keep you coming back for more
| | |
| --- | --- |
| Product Dimensions | 0.6 x 5.3 x 6.7 inches; 2.72 Ounces |
| Binding | Video Game |
| Rated | Everyone 10+ |
| Item model number | 98380 |
| Is Discontinued By Manufacturer | No |
| Item Weight | 2.72 ounces |
| Manufacturer | Sony Computer Entertainment |
| Date First Available | October 20, 2012 |