Sony Playstation 3 PS3 250GB Video Game System Fat Console CECHK01 2 CONTROLLER
Sony Playstation 3 PS3 250GB Video Game System Fat Console CECHK01 2 CONTROLLER
Refurbished:
"Bundle is fully tested and guaranteed to work!"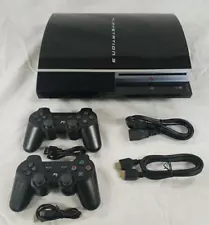 Sony Playstation-3 video game system, model CECHK01.  These consoles have been recently refurbished and guaranteed to be in perfect working order!
You will get the following:
Sony Playstation-3 Console System that features a 250gb hard drive (has built in wireless networking and BluRay player!)
2 NEW aftermarket wireless controllers
Power cord
HDMI TV Cable for optimum high definition quality
This version of the PS3 is NOT backwards compatible; it will NOT play PS2 games, PS3 only.  You can watch Blu-Ray, DVD movies!  Of course also works with all PS3 video games.
Make your multimedia dreams come true with PlayStation 3. Featuring a high-definition Blu-ray Disc player and a 250GB HDD, you'll be primed to explore new horizons and amazing possibilities. The PlayStation 3 also plays DVDs and CDs, is Internet-ready with built-in Wi-Fi and offers HDMI output for 1080p resolution. With blistering speeds and dazzling graphics, you'll jump-start your world to brand-new levels of excitement.

It all begins with Blu-ray, a next-generation media format that boasts more than five times the storage capacity of traditional DVDs. More storage capacity means a larger canvas to create high-definition, 1080p graphics and a level of interaction never before seen in video gaming. At the heart of the PlayStation 3 is the Cell Broadband Engine. Developed by engineers from Sony, SCEI, IBM and Toshiba, this advanced, state-of-the-art microprocessor features eight Synergistic Processor Units to balance processor workload, making it significantly more powerful than traditional single-core processors. Elevate your gaming experience and do so much more than before.
Product Features
Next-generation gaming
Delivers high-definition entertainment consisting of fast processing speeds and dazzling graphics.
250GB internal hard drive
Provides vast amounts of storage space for game saves, media and more.
Cell Broadband Engine
Supplies extremely powerful parallel processing for enhanced performance.
Blu-ray Disc format
Stores up to five times more data than DVDs, offering more room for graphics and gaming functionality.
Built-in 802.11b/g wireless Internet
Makes it easy to download playable demos, movie trailers and online content.
Advanced HDMI v1.3 support
Utilizes x.v.Color and Deep Color to create a brilliant palette of colors.
Stream and store capabilities
Allow you to access your favorite MP3 music, pictures or videos from any Windows Media Center-compatible PC.
1080p video upscaling
Breathes new life into your existing DVD collection.
Built-in Blu-ray Disc player
Offers pristine picture quality.
PS3 250gb CECHK01 console, power cable, HDMI cable and two NEW aftermarket PS3 controllers!
Warranty & Support
Wickedsunlight.com Return Policy: You may return any new computer purchased from Wickedsunlight.com that is "dead on arrival," arrives in damaged condition, or is still in unopened boxes, for a full refund within 30 days of purchase.