Sony PlayStation 3 Slim 160GB Charcoal Black Console
Sony PlayStation 3 Slim 160GB Charcoal Black Console
"
Fully tested and restored to factory settings by our in-house technicians.
"
FREE SHIPPING WITHIN THE USA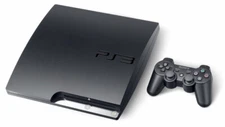 - This pre-owned product has been professionally inspected, tested and cleaned by WickedSunlight.com-qualified suppliers.
- There will be no visible cosmetic imperfections when held at an arm's length.
- Products with batteries will exceed 80% capacity relative to new.
- Accessories may not be original, but will be compatible and fully functional. Product may come in generic box.
- This product is eligible for a replacement or refund within 60 days of receipt if you are not satisfied under the WickedSunlight.com Renewed Guarantee.
Product Information
The Sony PlayStation 3 Slim offers quality performance for players of all ages. This console offers plenty of room for storing your favorite games with 160GB internal memory. This wireless controller adds convenience and flexibility so you can play from your couch or favorite chair without getting tangled up. With built-in Wi-Fi, the Slim black PS3 unit accommodates both video game aficionados and light users. You can stream TV shows and movies instantly from Netflix. With an HDMI input port, the PS3 supports HDMI resolution that lets you enjoy 1080 pixels on your TV, allowing you to enjoy all of the amazing graphics in their highest quality. This Sony PlayStation 3 has a built-in Blu-ray disc player with 3-D capabilities to deliver stunning, lifelike picture quality. Additionally, it supports Bluetooth to let you access your files from your laptop or other devices. For those familiar with the older PlayStation models, this version of the Sony PlayStation 3 Slim is backward compatible with games from the PS1. It is compatible with the memory cards for the PS1 and is able to format space for them. With the smoothing function on the home screen, the older graphics will work great with the PS3 model. Users with technical skills who want to "jailbreak" their PS3 can do so if the firmware on the unit is 3.55 or below. Simply use a USB drive and downgrade your Sony PlayStation 3 in order to save and back up your games. The Sony PlayStation 3 Slim gaming system is a compact device with dimensions of 16 inches by 14.6 inches by 5.2 inches. This charcoal-colored model only weighs 8 pounds, so it is very mobile. Its small stature makes storing the unit effortless. The Sony PS3 Slim has a refresh rate of 60 Hz, so it is compatible with virtually all televisions. It also uses 120 V of power, so you can plug it in anywhere that uses the American household electricity standards.
What's in the Package?
Refurbished console in like new condition
One used Controller
USB Cable
AV/HDMI Cable
Power Lead