Sony PlayStation 4 500 GB Black Console
SALE
Sony PlayStation 4 500 GB Black Console
"
Fully tested and restored to factory settings by our in-house technicians
"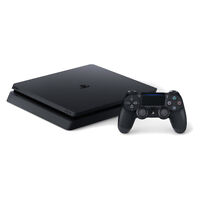 Sony PlayStation 4 500 GB Black Console Very Good Condition
Item Description:
Very Good - This product is in very good cosmetic condition and although there may be some light signs of use, the item has been fully tested and is in excellent working order.
You're getting a great device at a great price!
The item doesn't include original box.
What's in the Package?
Refurbished console in Very Good condition
One used Controller (may have slight wear)
USB Cable
HDMI Cable
Power Lead
The Sony PlayStation 4 Launch Edition is a gaming console that contains a storage capacity of 500 GB and a RAM capacity of 8 GB. It is powered by an AMD Jaguar 1.6 GHz CPU und comes with built-in Wi-Fi and Bluetooth. To compete with other players and share your greatest successes, you can use the SHARE button on the wireless controller. A wireless internet connection makes it easy to share data with the gaming community. Saved games can be continued immediately thanks to suspend mode. Via PS Vita you can also play your games on the 5-inch display over Wi-Fi. Weight and measures are 6.17 pounds, and 12 x 1.8 x 2.9 inches.
Product Identifiers
0711719051275, 0711719100348, 0858350004700
0711719051275, 0711719100348, 0858350004700
Product Key Features
Wi-Fi Capability, Internet Browsing
Additional Product Features
This pre-owned or refurbished product has been professionally inspected and tested to work and look like new. How a product becomes part of Wickedsunlight.com Renewed, your destination for pre-owned, refurbished products: A customer buys a new product and returns it or trades it in for a newer or different model. That product is inspected and tested to work and look like new by Wickedsunlight.com-qualified suppliers. Then, the product is sold as an  Renewed product . If not satisfied with the purchase, renewed products are eligible for replacement or refund under the Wickedsunlight.com Renewed Guarantee.