The Shining (4K Ultra HD + Blu-ray + Digital)
The Shining (4K Ultra HD + Blu-ray + Digital)
THIS IS A BRAND NEW FACTORY SEALED MOVIE
FREE SHIPPING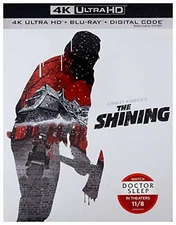 The Shining
All work and no play makes Oscar-winning actor Jack Nicholson-the caretaker of an isolated resort-go way off the deep end, terrorizing his young son and wife (Shelley Duvall).
Nicholson plays Jack Torrance, who's come to the elegant, isolated Overlook Hotel as off-season caretaker. Torrance has never been there before-or has he? The answer lies in a ghostly time warp of madness and murder.
Shining, The (4K Ultra HD + Blu-ray + Digital)
A married couple with a small son are employed to look after a resort hotel high in the Colorado mountains. As a result, they are the sole occupants during the long winter. The hotel manager warns them not to accept the job because of a tragedy that occurred during the winter of 1970. Based on the book by Stephen King.
Aspect Ratio ‏ : ‎

 

1.78:1

MPAA rating ‏ : ‎

 

R (Restricted)

Product Dimensions ‏ : ‎

 

0.7 x 7.5 x 5.4 inches; 3.2 Ounces

Item model number ‏ : ‎

 

BR739069

Director ‏ : ‎

 

Stanley Kubrick

Media Format ‏ : ‎

 

NTSC, 4K

Run time ‏ : ‎

 

2 hours and 26 minutes

Release date ‏ : ‎

 

October 1, 2019

Actors ‏ : ‎

 

Jack Nicholson, Shelley Duvall, Danny Lloyd, Scatman Crothers, Barry Nelson

Dubbed: ‏ : ‎

 

French

Subtitles: ‏ : ‎

 

Polish, Polish, Italian

Producers ‏ : ‎

 

Stanley Kubrick

Language ‏ : ‎

 

English (Dolby Digital 5.1), French (Dolby Digital 5.1)

Studio ‏ : ‎

 

WarnerBrothers

ASIN ‏ : ‎

 

B07RP4T8KZ

Writers ‏ : ‎

 

Stanley Kubrick, Diane Johnson

Country of Origin ‏ : ‎

 

USA

Number of discs ‏ : ‎

 

2