The Wizard of Oz (75th Anniversary) (Blu-ray, 1939)
The Wizard of Oz (75th Anniversary) (Blu-ray, 1939)
THIS IS A BRAND NEW FACTORY SEALED MOVIE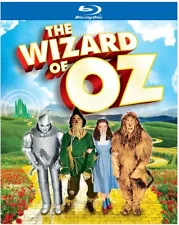 Product Description
The magic of M-G-M's wonderfully colorful and unique fantasy has melted hearts for more than seven decades with its indelible melodies and transcendent themes of family, home and the courage to pursue dreams. To celebrate the beloved movie's 75th anniversary, Warner Bros. Home Entertainment is re-releasing The Wizard of Oz on Blu-ray.

Adapted from L. Frank Baum's timeless children's tale about a Kansas girl's journey over the rainbow, The Wizard of Oz starred Judy Garland as Dorothy, Ray Bolger as the Scarecrow; Bert Lahr as the Cowardly Lion; Jack Haley as the Tin Woodman and Margaret Hamilton as the Wicked Witch.

The Wizard of Oz received five Academy Award nominations[1], including Best Picture (Outstanding Production), and captured two Oscars -- Best Song ("Over the Rainbow") and Best Original Score -- plus a special award for Outstanding Juvenile Performance by Ms. Garland.
Review
The blend of old-fashioned, classic storytelling with cutting-edge technology is undeniably enthralling. --USA Today, Claudia Puig

Knowing that it was made without a single computer, and entirely by human ingenuity, makes it all the more worthy of marveling at, 75 years and an added dimension later. --Toronto Star, Peter Howell

The greatest American movie fantasy. --Orange County Register, Michael Sragow
About the Actor
Judy Garland was born June 10, 1922, in Grand Rapids, Minnesota. One of the brightest movie stars of the Golden Era, Garland's iconic movie classics include: The Wizard of Oz (1939), The Clock (1945), and A Star Is Born (1954). Victor Fleming was born February 23, 1889, in La Canada, California. He was a skilled stunt driver and actor in classic movies including: Treasure Island (1934), Gone with the Wind (1939) and the musical The Wizard of Oz (1939).
Aspect Ratio ‏ : ‎

 

1.37:1

Is Discontinued By Manufacturer ‏ : ‎

 

No

MPAA rating ‏ : ‎

 

G (General Audience)

Product Dimensions ‏ : ‎

 

0.7 x 7.5 x 5.4 inches; 2.88 Ounces

Item model number ‏ : ‎

 

770136

Director ‏ : ‎

 

Victor Fleming

Media Format ‏ : ‎

 

Blu-ray, NTSC, Full length

Run time ‏ : ‎

 

1 hour and 41 minutes

Release date ‏ : ‎

 

October 1, 2013

Actors ‏ : ‎

 

Judy Garland, Frank Morgan, Ray Bolger, Bert Lahr, Jack Haley

Producers ‏ : ‎

 

Mervyn LeRoy, Arthur Freed

Studio ‏ : ‎

 

WarnerBrothers

ASIN ‏ : ‎

 

B00CNW9ZEU

Writers ‏ : ‎

 

Noel Langley, Florence Ryerson, Edgar Allan Woolf, L. Frank Baum

Country of Origin ‏ : ‎

 

USA

Number of discs ‏ : ‎

 

1