Vintage 1993 Full House Board Game Tiger Games, Complete Game
Vintage 1993 Full House Board Game Tiger Games, Complete Game
FREE SHIPPING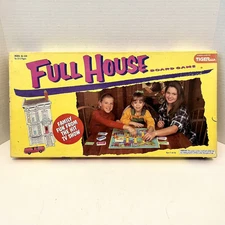 (1993) Full House Board Game made by Tiger, made in the USA.  Model #86-201.  This game is complete with original box, instructions, Joey Joke Cards, all game cards, 1 die and 6 car pieces. 
Condition-Very Good-Minor wear, tear on the box corners and one small piece of tape on the game board.
Email us with any questions you may have.
Country/Region of Manufacture:
4-7, 8-11 Years, 12-16 Years, 17 Years & Up